Welcome to Multivan-mieten.net
VW Multivan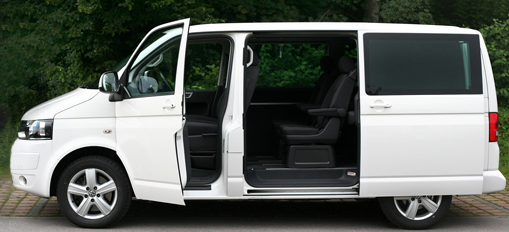 The Multivan offers more scope of action.
With place for mobile conferences.
With contmporary communication facilities.
With a lot of comfort on representative level.
With your first look into the passenger interior
and in the cockpit it is obvious: Design has the balance between fastidious representation
and ergonomic function.

The Multivan interior leads your business simply
in a way, as you are used to it in your office !
The incomparably large interior of the Multivan connects the luxuriously comfort to automobiles
of the upper class with the possibilities of a
mobile office. Within a few seconds the passenger compartment transforms to a conference room. For small meetings and discussions, so that your business remains at any time in motion.
No matter whether you need 1 or 2 vehicles for a wedding or from 10 to 20 or more vehicles for the next Bambi-Award.
We deliver reliably and all over in Germany.


On request also with a driver. (with passenger service license)
Our FREE-CALL Hotline (in Germany)
(08 00) JOYRIDE
or simply
0800 - 569 74 33